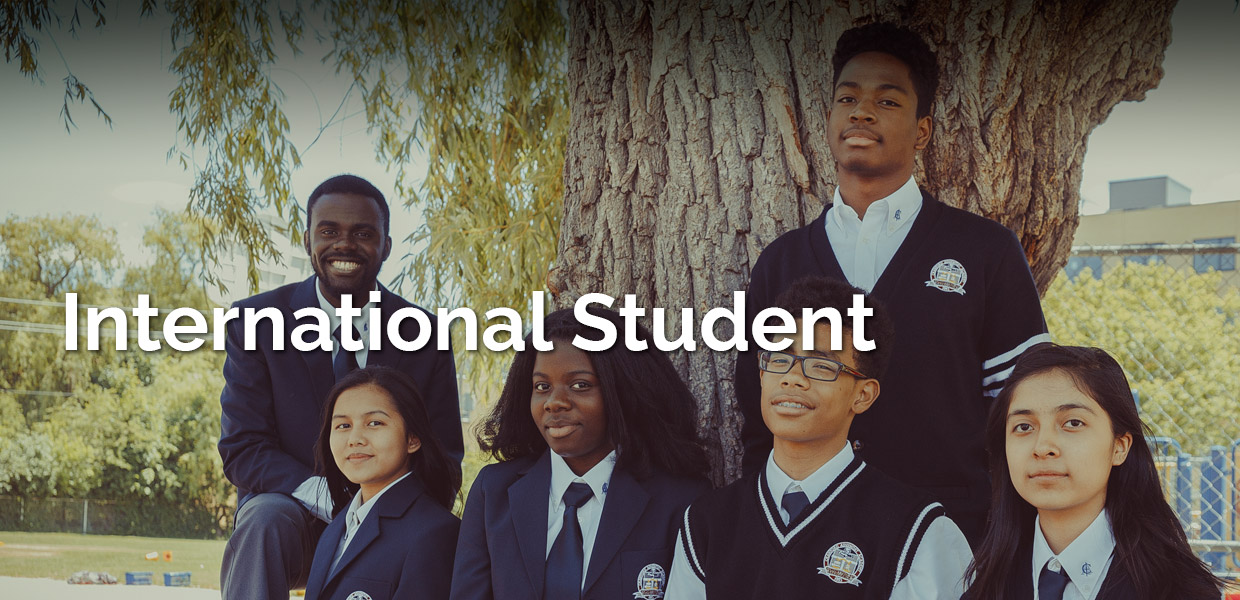 International Student Admission
Studying abroad is an enriching and exciting adventure for students and their families. Becoming a student at our Crawford Adventist Academy (CAA) provides youth with many opportunities to reach their potential in mind, body, and spirit. International students graduating from our school program enjoy academic success, growing arts and sports competencies, and increased self-awareness and independence.

International students immerse themselves in a new culture and build confidence, master unparalleled academic programming, enjoy enduring friendships, and receive the gift of independence – in a supportive community atmosphere – that enables them to develop into unique and competent individuals.

Documents for International Students
When international students are planning to attend a school in Canada, there are Canadian governmental documents that must be completed during the application process. The student should apply for a student permit before enrolling in a Canadian school. International high school students studying in Canada are also required to have an adult guardian living in Canada. In addition, students will also need to arrange for health and dental coverage while attending a Canadian school.

Student Visas/Study Permits
It is required that all international students obtain a Student Visa. Please note that a Study Permit application can take up to four months to complete and process. Some exceptions apply depending on country of origin and intended length of stay in Canada. Information regarding study permits can be found by visiting the Canadian Immigration webpage at: http://www.cic.gc.ca/english/study/study.asp.

Students entering their Grade 11 year are invited to participate in a school trip to Washington D.C. with the history class and College Day trips to the USA. If your child has enrolled in this course, you may want to contact the U.S. Embassy nearest you and consider applying for a "Visitors Visa" for your child so that they may be allowed to cross the Canadian border into the United States. It is very difficult for an international student to apply for a U.S. Visitors Visa while residing in Canada; this document needs to be processed in the student's home country. Parents will want to keep a photocopy of their child's legal documents such as Study Permits, passports, and any other Visa-related to the child's passport.

Guardianship
The Canadian Embassy/Consulate requires international high school students (studying in Canada) to provide contact information for someone who will act as an adult guardian. The guardian must live in Canada. Often the guardian is connected to the family as a family friend or relative. Sometimes international families do not have someone who will act as the student's guardian. There are a number of professional services and organizations that can assist families in this process.

Health and Medical Insurance
International students need to arrange for health and dental coverage while attending at school in Canada. Students who hold Canadian citizenship, Official Landed Immigrant Status, or Permanent Residency Status should apply for Ontario Health Insurance Plan (OHIP) coverage International students who do not have OHIP coverage, must provide documentation showing they have medical coverage through their parents, or may purchase the "International Student Medical Plan" offered by an insurance company.


Steps
Application Procedure
Complete the Application Form.
Attach an official previous year transcript (report card) and the most recent transcript
Attach an original copy of Birth Certificate
Pay the non-refundable application fee of Can.$150.00 by bank draft/money order or pay at our website
Mail the original application, documents and the payment to the Principal.
Acceptance
CAA Admission Committee will review all of the above documents
A decision will be informed by phone or email or mail
If accepted, you will be required to pay the necessary fees
Official Acceptance Letter for visa will be forwarded once required payment is processed
Visa/Student Permit
Follow the Canadian Student Visa requirement stipulated in http://www.cic.gc.ca/english/study/study.asp.
Print Visa application, fill out
Pay the required Visa fee
Submit application, proof of visa payment with the other documents to the Canadian Consulate nearest you
Refund Policy
Failure to obtain a student visa prior to your arrival at CAA, will entitle you to a refund of the Tuition and Miscellaneous Fees. Students must notify CAA in writing and provide documentation prior to the start of the school year (the original letter from the Canadian Embassy) stating the reason(s) the visa was denied - no photocopies or faxes accepted. Any misrepresentation of information to the Canadian Embassy or CAA will void your application and no refund will be issued. Student(s) who are successful in obtaining a visa on behalf of TADSB Schools and transfer to another institution
WILL NOT BE ISSUED A REFUND
.
Four weeks should be allowed to process all refund cheques. There wi ll be a $50.00 NSF fee for returned cheques.
Uniforms
Crawford Adventist Academy will provide 1 set of school uniform each year. Additional uniforms may be purchased from our official supplier whose contact information is given below, through their website or through our academic office.
M J McCarthy
360 Evans Avenue
Toronto, On
M8Z 1K5
416-593-6900
1-800-668-8261
www.rjmccarthy.com
Physical Education Uniform, Choir or Band Uniforms have to be ordered through the teacher at an additional cost.
Contact Information
All information regarding admission to CAA can be obtained from and submitted to
the Principal's or Registrar's office
via mail or by phone or email.
Crawford Adventist Academy
531 Finch Avenue West
Toronto, Ontario, M2R 3X2
Canada
Phone: 1-416-633-0090 Etn.223 or 240
Fax: 416-633-0467
Email:
nbrown@caasda.com
We invite you to come and study with us! Our International Student Program offers an outstanding educational program for international students. You will be provided with challenging academic studies and English language learning opportunities in classrooms where you will be fully integrated with your Canadian fellow students. Your education program will be based on high standards of academic excellence, and Crawford Adventist Academy will prepare you for continuing post-secondary studies at the university or college level.
International Student Fee Structure
International students, those whose primary residence is not in Canada, are guided by a different fee structure.
| | | |
| --- | --- | --- |
| Fee Description | K to 8 | Grade 9 to 12 |
| Application Fee | $ 150.00 | $ 150.00 |
| Visa Letter | $ 100.00 | $ 100.00 |
| Tuition | $ 15,000.00 | $ 15,000.00 |
| Miscellaneous Fee * | $ 1,750.00 | $ 2,500.00 |
| Lunch (Full School Days) | $ 1,000.00 | $ 1,000.00 |
| Insurance | $ 650.00 | $ 650.00 |
| TOTAL FEES | $ 18,650.00 | $ 19,400.00 |
* Miscellaneous Fee covers textbooks, workbooks, school uniform, field trips within Greater Toronto Area, yearbook,
activity fee, computer and technology, etc.
ENGLISH LANGUAGE LEARNERS (ELL)
Students, who do not speak English as a first language, may be required to enroll in our English Language Learner program.(Research shows that it can take five to seven years for a student to become academically proficient in a language other than their mother tongue.) Our ELL program provides three periods of English support in five classroom days at a cost of $2,500. If additional support is necessary it is billed at an hourly rate.
PAYMENT METHOD
International student fees must be paid in full in advance to process Visa Letter. Payments can be made by cash, certified cheque, wire transfer (bank details will be provided on request), Visa, Master card, American Express. All credit card payments are subject to a 3% administration fee.
Student Accounts
Students and Parents may call Student Accounts Office at 416-633-0090 x 225 for their account details and payments. Monthly statements will be emailed to the parent or guardian during the first week of each month or on request.
Boarding and Lodging
Boarding and Lodging can be arranged on request at Canadian English speaking homes. This will cost $15,000.00 and up for September to June. Students may be allowed to stay during July and August at an additional cost. This will help students from Non-Speaking English countries to interact with Canadians and the language and culture.