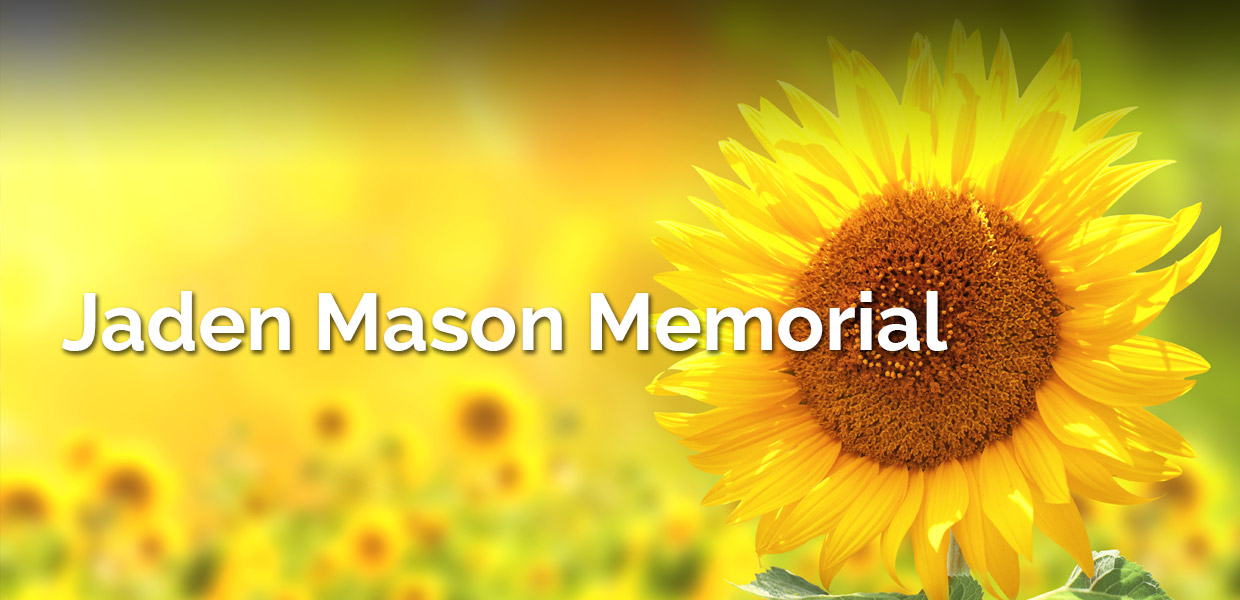 The Jaden Mason Memorial Fund
Jaden Leah Alexis Mason was born on December 8, 1999 to Dalah Mason and Jason Tomlin in San Bernardino, California. From early on, it was apparent that she was a very special child.

Jaden loved animals, playing at the park, travelling, and vacations in Florida with her cousins and family. She enjoyed playing dress-up, watching movies, Veggietales, Family Channel, doing arts and crafts, planning events, entertaining, and sharing. She also loved singing, dancing, and music.

She was physically beautiful - hers was not a face only a mother could love. She was very obedient, respectful, affectionate and everyone's best friend. She would always greet others with a warm smile and a hug. She was very intelligent and consistently averaged 90% in school, falling a mere 3%when she became ill.

Jaden was a determined little girl. Although she was sick, she was determined not to fall behind in school and have to repeat grade 5. Many times her mother gave her the option to stay home for the rest of the school year or to be home-schooled, she preferred to keep on going. This school year, there were many days Jaden went to school tired or unwell and would spend time in the sick room or principal's office. Then after school she would go home and proudly announce her joy at spending two hours asleep in Mrs. Burgin-Hall's office.

The most important thing to tell you about Jaden is that she loved Jesus. Her loving character and personality was a direct reflection of Christ's character. She would sit in church reading the Bible and stop to brag to her Mom about how many chapters she would read in one sitting. Her Sabbath School teachers always said how eager she would be to learn about Christ. She loved to spend time with Jesus and she trusted Him.

Of her earthly relationships, the most important was that with her mother. She was very close to her mother and preferred to be with her over anyone else. But, if she could not be by her side, school was the only place she would gladly go. Jaden loved her school and hated to miss even one day.

Jaden and her mother had moved back to Toronto for two reasons - to allow Jaden to grow up around her host of cousins, and to attend Crawford Adventist Academy for a Christian education. And so, Jaden had been attending Crawford Adventist Academy from Kindergarten straight through.

In Fall of 2008, a week of prayer was held. Jaden came home and said that she wished to be baptized. She said that Pastor Anderson had told the children to bow their heads and pray and see if the Holy Spirit tells them to be baptized now or later. As Pastor Clarke announced on the day of her baptism, she said that the Holy Spirit told her that the time was now. And so, she was baptized at the Toronto East Seventh-Day Adventist Church on May 30, 2009. Just two weeks later, her illness was diagnosed

On Friday March 12, 2010, her mother's birthday, God brought Jaden's suffering to an end. She passed away peacefully sleeping, and surrounded by family, many friends, and her favourite teddy Demar, at the hospital for Sick Children. Her passing on her mother's birthday is evidence that her life was a beautiful gift both to Dalah and to all who met her. Let us remember her for her personality and for her genuine and deep love for God. No doubt, we will see Jaden on resurrection morning.